1.3.2
Card Manager
Card Manager
Card Manager is the best software to manage business cards with Mac.

Simple & effective functions to search and edit information on business cards
Various utilities to communicate with other software
Trailer Video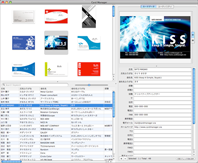 End of sales
Purchasing method:Mac App Store

System requirements and supported languages
Mac with Intel® processor
1GB of RAM
100MB of available hard-disk space
Mac OS X 10.6.6 or above
Both English and Japanese are available for the menu
Various languages can be used for inputting information
More about Card Manager

Simple & neat design
We have a particular interest to make a stylish yet functional design - A must for Mac users

Easy & immediate control
Card Manager can be operated easily and intuitively. We have omitted complicated function buttons so you 'just know' which buttons to press in any situation.

Sophisticated searching
Card Manager is able to search your business cards with only a few words; Even if you only remember a part of person's name/tel/address, Card Manager can still find the business card for you.

Synchronizing iCardManager address book
Card Manager can be synchronized with iphone application 'iCardManager'. This enables you to carry your Mac data with you effortlessly. Sending information to address book is also possible.

Importing & exporting
You can import CSV formatted files. Image files can also be imported by putting the name of files. Using Japanese language settings, CSV files and image files processed by OCR* card filing system can also be imported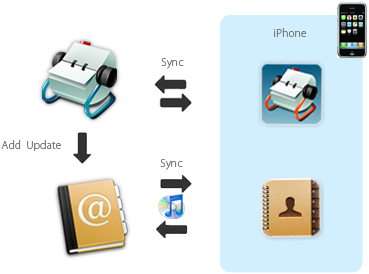 System requirements and compatibility
System requirements
Mac with Intel® processor
1GB of RAM
100MB of available hard-disk space
Mac OS X 10.6.6 or above
Usable languages
Any language that your system is compatible with
Opening images
drugging image files
JPEG, PNG files
Synchronization
iCardManager (iPhone/iPod touch)
Address book

Adding and over writing information if one's name, company name, department, department2, title are the same

Synchronizing in any language that Mac and iPhone support
Connecting to Mac through Wi-Fi
Both devices need to be on the same network when synchronizing through Wi-Fi
Importing & exporting
importable text formats

CSV files that starts with fixed header record
CSV files exported by Business Card Filing OCR Ver 2.2

importable image formats

JPEG files (compressed when imported)


*

repeated importation deteriorates image quality.
.tif files in "standard" folder in Business Card Filing OCR Ver2.2

compatible encodes

Unicode
ASCII
ShiftJIS
NEXTSTEP
JapaneseEUC
UTF8
UTF16
ISOLatin1
ISOLatin2
WindowsCP1251
WindowsCP1252
WindowsCP1253
WindowsCP1254
WindowsCP1250
ISO2022JP

Import CSV template / CSV sample files
---
*

All names of products and systems contained in here are trademarks or registered trademarks of the respective companies.

*

The product specifications may differ from the actual products.

*

In order to import TIF files, the file should first be exported by Business Card Filing OCR, then set the file type to TIF in Card Manager when importing. This process has been checked by using Business Card Filing OCR version 2.2. Should the specifications of the software change in future versions, this function may be disabled.

*

the prices shown are all inclusive of VAT.