1.2.0
RC Gear Ratio Picker is the Utility-App where is convenient for RC fan who can refer to a gear ratio from the Spur and Pinion gear of RC Car. This App include functions for Gear Ratio Information and Gear Ratio Calclator.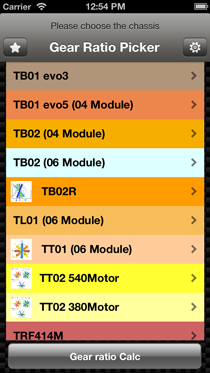 RC Gear Ratio Picker
FREE
Distribution method:App Store


System requirements and supported languages
iOS 7.0 or newer
English and Japanese languages
Detail information
It has two functions.
- Gear Ratio Information
The main chassis of TAMIYA correspond in the present version.
The figure of motor mount is also attached about some chassis.

Ver 1.1.0 supports following chassis
-- TAMIYA
F102 F103 F104 F201
TA01 TA02 TA03 TA03F PRO TA03R
TA04
TA05 TA05 M-Four TA05 VDF TA05 VerII TA05 VerII R
TA05-VDF2 Drift Chassis
TA06 TA06 Pro
TA06 MS(ver 1.0.1 correspondence)
TB01 TB01 evo3 TB01 evo5
TB02 TB02R
TL01
TT01
TT02 540Motor TT02 380Motor
TRF414M
TRF415 TRF415 MS TRF415 MSX TRF415 MSXX
TRF416 TRF416X
TRF417 TRF417 V5(ver 1.0.1 correspondence)
TRF 418(ver 1.0.1 correspondence)
M03 M04
WR02
FF01 FF02
DF02 DF03
XV-01 XV-01 PRO XV-01T XV-01TC PRO

-- YOKOMO
BD7 (only for Calc Function)(ver 1.0.1 correspondence)

- Gear Ratio Calculator
In the present version, it corresponds to the some chassis of KYOSHO, TAMIYA, and YOKOMO.

These data is due to be increased one by one.
If there is a chassis of hope, I will hope to connect from the inquiry form of an application support web site.

== DISCLIMER == This application uses the data which collected information uniquely.
Therefore, any guarantees, such as the completeness of the contents to offer, accuracy, and safety, are not offered. About the damage that occurred to users, I do not take any responsibility
Please use it by your own judgment, inspection.
System requirements and compatibility
System requirements
iOS 7.0 or newer
Bluetooth
---
*

All names of products and systems contained in here are trademarks or registered trademarks of the respective companies.

*

The product specifications may differ from the actual products.