1.3.0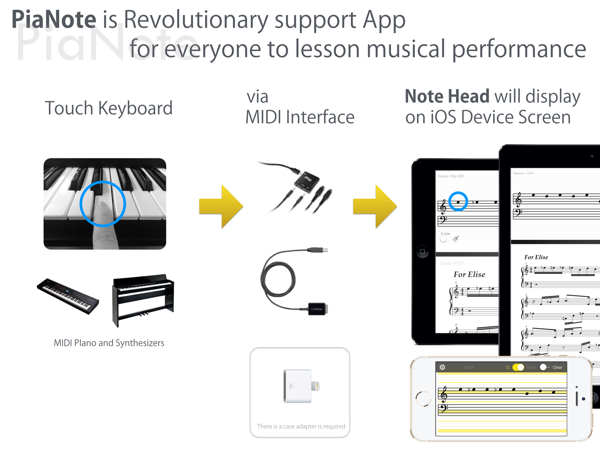 All for beginner Piano!

You are a hard time comparing it to the position of your fingers and sharp score is correct. You get tired to count the line of score like C,D,E ....


This PiaNote is revolutionary support App for everyone to lesson musical performance from those difficulties.


If you touch C key in piano, the place of note head is displayed correctly on iPad(iPhone). You will find the mistake of your finger at a glance.

You can mark lines in C position. The moment you look at the musical note, you can get strong support about the position where you should to move your finger on piano's keyboard. And it is possible to change the color of the mark.

You can display the PDF on lower half (Support only iPad),
and Transfer PDF that you want to play and see the score anytime and anywhere.

Detail information
Main feature

- Display note information(note head) connected to MIDI IN
- Display just only note head .It does not display the length.
- Mark line on C (C1, C2, C3, C4, C5, C6) and changing the color.
- Capable of display within 88key's piano.
- The PDF can be displayed side-by-side (Support only iPad)
- Transfer PDF via iTune's file share function.
- PDF import from other App via ''Open in''.
- Changing the transparency of the PDF.
- Adjust the sensitivity of received MIDI data.
- Compatible with key signature(It may not be the display exactly the same score by interpretation ).


Notice and Discharge

- Not guaranteed much full about the position of musical note and accidental Because of key signature's rendering

- Not guaranteed any results and damage by using this App
- Check MIDI interface instructions for how to connect and not support these things us.
- If the note does not appear , Confirm recognition ''Device'' located in the upper left portion of the screen or check the connected data between iOS and MIDI IN
Pleased let us know If you confirmed other MIDI interface.

Confirmed MIDI interface
- IK MULTIMEDIA iRig MIDI
- YAMAHA i-UX1
- ALESIS iO Dock Pro Audio Dock For iPad (User Report)

-iPad
-iPhone
System requirements and compatibility
System requirements
iOS 7.0 or newer
iPad iPhone
---
*

All names of products and systems contained in here are trademarks or registered trademarks of the respective companies.

*

The product specifications may differ from the actual products.