1.1.1
MPO3DViewer version1.1.1
MPO3DViewer
Mac 3D viewer, the only application that enables Mac to save and view 3D files(MPO files), is now available. With this simple software, you can easily view and save MPO files you have created with your 3D digital camera.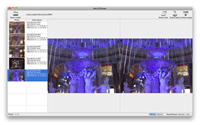 Notice ---2011 Apr 27 updated


*

Correction of problem that "Help" display bug now fixed.
*

It corresponded to the MPO file of Nintendo 3DS!

*

Now Mac App Store available for download.

*

Mac3DViewer is now renamed MPO3DViewer.

*

MPO3DViewer1.0.0 is the same function as Mac3DViewer1.0.0.
$ 12.99 USD
Purchasing method: Mac App Store

System requirements and supported languages
Mac with Intel® processor
1GB of RAM
10MB of available hard-disk space
Mac OS X 10.6.6 or above
English and Japanese languages
More about

Compatible with MPO 3D photo
One of a few applications that can deal with the newest 3D format, MPO.
Enlarging/reducing and reversing pictures
The application is capable of ordering, reversing, enlarging and reducing 3D pictures in MPO files. Once you've got the hang of it,you can see solid images on the display using wall-eyed or crosseyed viewing techniques.

Exporting
MPO3DViewer can export the left and right MPO images separately to JPEG files.
You can pick your favorite viewpoint from the subtly different pictures

Combining
The application can combine the left and right images of a MPO file into a JPEG file. Once you've got the hang of it, you can see solid image using wall-eyed or cross-eyed viewing techniques.
About the trial version
Anyone can download the application to try out for free.
Limitations of the trial version are;

Only one file can be exported per opening of the application.
Combining is not available
System requirements and compatibility
System requirements
Mac with Intel® processor
1GB of RAM
10MB of available hard-disk space
Mac OS X 10.6.6 or above
Main Features
Displaying MPO files
Saving left and right images separately
Saving left and right images as a JPEG image
Supporting format
MPO files (multi-picture format)
---
*

All names of products and systems contained in here are trademarks or registered trademarks of the respective companies.

*

Movie files are not compatible.

*

The only application that enables Mac to view and save 3D MPO files (researched by SI Agency in January 2010)

*

The operation of the application has been verified with FUJIFILM FinePix REAL 3D, the world's first 3D compact digital camera for general use.

*

Some MPO files may not be properly processed.

*

The perception of 3D images can vary from person to person. Some users might not be able to see 3D images.

*

the prices shown are all inclusive of VAT.