1.21
MovieBoard
MovieBoard is a easy simple to use movie player.
MovieBoard allows you to watch movie files anywhere offline! Movie files are played in sequence in accordance with your personal movie list.

When you view videos on Youtube or iPad preinstalled media , at the end of each video the media player will automatically stop, without moving on to the next file-slightly aggravating right.

MovieBoard has been developed to be used in the following way
- show music movies and animations to children - educational purposes - Playing retail and corporate promotional videos - You can see any movies clearly anywhere even in poor reception areas (even in bed)


2011/09/13 Updated!
Trailer Video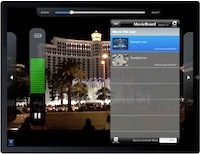 *

Features
- Quick and easy iTunes file sharing system enabling you to copy movie files quickly
- Download movie files from the Internet
- Offline viewing
- Automatically play multiple files from your playlists
- simple and easy to use interface - AirPlay support



*

Notice:
Does not support DRM protected media.
(Does not support previously purchased iTunes media files)
Movieboard does not support file streaming.
Movieboard plays downloaded media as well as videos via iTunes file sharing.
For the quickest most effective use, we recommend using iPad 2.
With AirPlay, depending on the speed of your network, some movies may skip. Mirroring only for iPad2.
End of sales
Purchasing method: App Store

System requirements and supported languages
iPhone4
iPhone3G(3GS)
iPod touch
iPad,iPad2
OS4.2 or newer
English and Japanese languages
System requirements and compatibility
System requirements
iPhone4
iPhone3G
iPhone3GS
iPod touch
iPad
iPad2
(OS4.2 or newer)
Menu Language
Multi-language keyboard is supported according to iPhone settings
Usable languages
Any languages that iPhone,iPod touch,iPad,iPad2 is compatible with
METHOD OF MOVIE SETUP
There are two methods so that you watch a movie. (http)
download the movie file from Internet.
Documents Shared by iTunes (Mac / Windows)
---
*

All names of products and systems contained in here are trademarks or registered trademarks of the respective companies.

*

The product specifications may differ from the actual products.

*

the prices shown are all inclusive of VAT.