1.1
Mask Erementary
The popular(weekly)comic,"The diaries of Mask Elementary School"in the newspaper is now available as an application on iPhone and iPad.

The main characters of the cartoon are from the picture book "Chicken Mask" which was selected as assigned reading in Tottori prefecture.
The characters in the book are Chicken Mask, Shark Mask, Hamster Mask…etc..
They respect their friend's individual qualities mutually and described their school life and heartwarming stories.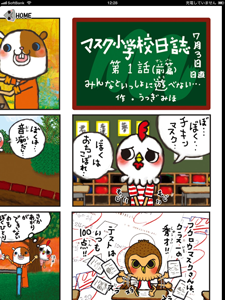 Mask School
$1.99 USD
Distribution method:App Store


System requirements and supported languages
iOS 4.3 or newer
English and Japanese languages
Detail information
・When you do double tap the display, it can change to a single-frame cartoons and also it can change to an eight-frame cartoons
・You can buy additional stories

System requirements and compatibility
---
*

All names of products and systems contained in here are trademarks or registered trademarks of the respective companies.

*

The product specifications may differ from the actual products.