1.11
J-LANTERN
The J-LANTERN application teaches people around the world about chochin,
or 'paper lanterns,' while at the same time allows users to familiarize themselves with kanji (Chinese characters)
that are currently popular overseas.

The J-LANTERN application lets you select Japanese kanji for chochin paper lanterns that you can light up.

You can choose from among available kanji.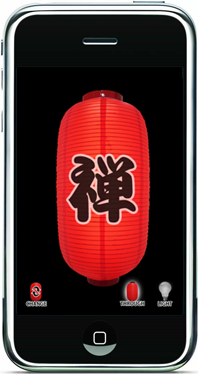 End of sales
Distribution method:App Store

System requirements and supported languages
iPhone3G or newer
iPod touch
iPad
OS 3.0 or newer
English and Japanese Languages
Detail information
- You can find your favorite kanji character among dozens of choices.
- The chochin paper lantern light can be turned on and off.
- In iPhones with rear-facing cameras, you can see through the background to shine a lantern in the actual background.

System requirements and compatibility
System requirements
iPhone4
iPhone3GS
iPhone3G
iPod touch
iPad
OS 3.0 or newer
Menu Language
Multi-language keyboard is supported according to iPhone settings
Usable languages
Any languages that iPhone is compatible with
Methods of importing images
Shooting with the camera (for the models equipped with camera)
---
*

All names of products and systems contained in here are trademarks or registered trademarks of the respective companies.

*

The product specifications may differ from the actual products.