1.1.0
iDUMBO
!!! Thank you a lot of popularity to the Mac version (DUMBO).
!!! Finally iOS version was sold start.

Are you listening to music in your office or school by iPhone or iPod? You can get much more work done when listening to music in the office, right?
But you didn't notice someone trying to speak to you. iDumbo solves all problems!


You can hear surroundings by concentrating sound using by headphones with built-in mic when you are listening to music.

You can't pick up soft sound but easy to catch if someone talks to you or to aware door bell.

*You can delete the ad showing on in-app purchase.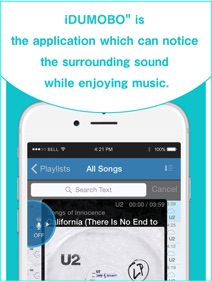 iDUMBO
Free


System requirements and supported languages
iOS 8.0 or newer
iPhone/iPad
WatchOS (Only for iPhone)
English and Japanese languages
System requirements and compatibility
Main Function
Aware Mode (Sound Concentration) ON/OFF
Changing volume of collecting sound.
Search music from your playlist on your device.
Audio Player (Play/forward/rewind/pause)
Please use iDUMBO audio player for operation. iDUMBO audio player doesn't
link to standard iPhone audio player except controlling volume.
Application consideration and discharge
Input device required (ex.Microphone)

There are cases when it is not possible to obtain a sufficient effect depends on your earphones or headphones or music itself.

Not guaranteed that DUMBO collects whole around sound (DUMBO's purpose is to be realized your surroundings)

Not guaranteed any damage with using iDUMBO

Not included a high function like a noise canceling.

Do not use iDUMBO with running speaker
System requirements
iOS 8.0 or newer
iPhone
iPad
WatchOS (Only for iPhone)
---
*

The product specifications may differ from the actual products.