1.2.3
iCardManager HD
iCardManager HD for iPad
It became easy to be large the screen, and to see, and it came to be able to operate it more easily even at the office and home.
ATTENTION!*
iPad is not possible to take a picture of the noun data with iCardManager HD because the camera is not installed in.
The carte-de-visite is scanned with Mac etc. , and please select and use the image from the photograph library.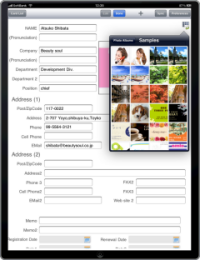 iCardManager HD
End of sales
Purchasing method: App Store

System requirements and supported languages
iPad
iOS 4.3 or newer
English and Japanese languages
More about iCardManager HD

For iPad
The design is completely changed only for iPad. The item is arranged on a vast screen without impossibility.

Synchronizing with Card Manager
iCardManager HD can be synchronized with Card Manager. Once you synchronize with iPad, you can carry your data with you. The application synchronizes seamlessly in contrast with official software.

Simple & neat design
The application displays nothing unnecessary - a stylish yet functional design.

Sophisticated searching
You can search your business cards by putting a few keywords, such as a part of the person's name, company name, or telephone number. We value time and intuition.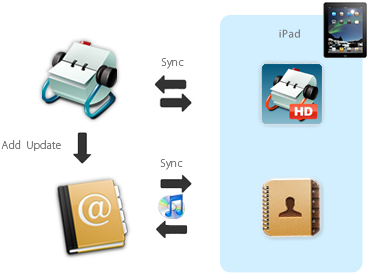 System requirements and compatibility
Menu Language
Multi-language keyboard is supported according to iPad settings
Usable languages
Any languages that iPad is compatible with
Methods of importing images
Synchronizing
Card Manager, a Mac application
Synchronizing in any language that Mac and iPad support
Connecting to Mac through Wi-Fi
Both devices need to be on the same network when synchronizing through Wi-Fi
---
*

All names of products and systems contained in here are trademarks or registered trademarks of the respective companies.

*

The product specifications may differ from the actual products.

*

The Mac running Card Manager and iPad need to be on the same network when synchronizing.

*

Synchronizing with Card Manager is done through Wi-Fi. The Mac running Card Manager and iCardManager HD need to either be on the same Wi-Fi or connected by AdHock connection.

*

the prices shown are all inclusive of VAT.