1.0.3
DUMBO
DUMBO is an application for Mac OS X which is lets you hear the outside sounds when you listening to music.

Are you listening to music in your office or university?
If so, you can concentrate your task in good feeling, don't you?

As you may know, there is a risk that you can't realize said something from yourself around.
DUMBO is amazing application to solve those problems.

How to use is super simple.
After running this application, you click "Enabled" on Mac menu bar's DUMBO icon.
DUMBO mixes your music with your outsides sound via microphone embedded in Mac.
Although DUMBO can't catch a slight sound, easy to catch a regular life sound for examplechime and human voice.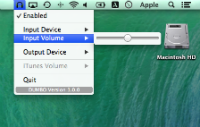 $ 1.99 USD
Purchasing method:Mac App Store

System requirements and supported languages
Mac OS X 10.9 or later
English language
System requirements and compatibility
Main function
Choose microphone (Input) for collecting around sound
Choose redirection (output) which is collected around sound
(This is possible for you to select not only microphone terminal embedded in Mac but alsoother terminal)
Change volume for collecting around sound
Change volume for iTunes when it's running
Application consideration and discharge
Input device required (ex. Microphone)
Not guaranteed that DUMBO collects whole around sound

DUMBO's purpose is to be realized you around sound

Not guaranteed any damage with using DUMBO
Not included a high function like a noise canceller
Forbidden to use DUMBO with running speaker
(Having howling in some situation and there is a risk of damage in your body and speaker)
---
*

The product specifications may differ from the actual products.

*

the prices shown are all inclusive of VAT.