1.2.0
Clerk is a time-card/time stamp application that is made specifically for the iPad. With this application, you can set up a registered staff list where you can place the iPad at the entrance of your work place and manage your staff's attendance by simply tapping the application.

Though the application does not a have complex attendance management function, it is both simple and comprehensive. Also,
the accumulated data can be exported as a CSV file, which is receivable through email. Since it is a CSV file, it is easy to convert into an Excel file or other software in order to adjust or calculate.

This application is ideal for an office with around ten employees, a corporation with a shift system, and/or a company that wishes to keep records of key work information.

This application is neither suitable for large scale management nor for flexible working system attendance management. Please be sure of the following function and restriction terms prior to usage.

App is now free !!!
It can register the only two staff members.
You can register three or more staffs by In-App purchase.
Some bug fix.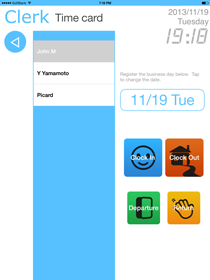 Clerk

Time Card/Stamp

Free


System requirements and supported languages
iOS 8.0 or newer
English and Japanese languages
Detail information
- Though the application does not a have complex attendance management function, it is both simple and comprehensive.

- Unlock, shift-attendance, lock
(The system can only be locked and unlocked by one registered user per working day)

- Start time, Out-of-office time, Return time, End time
(Each staff member can only select each option once per working day)

- You can change the title and theme color. ex.Company name and corporate color.

- CSV Export via mail

- Passcode lock

- Manage Staff List

- Users limited to those with passcode.

- "Theme Colors" can be changed.

- "Titles" can be changed. Company, group, and other designated names can be set.

- Staff can be added and deleted from lists/events/duties not just by name, but by ID if so desired.

- Designed to function on the iPad in both portrait and landscape mode.

- Stored data can be exported (via email).

*The above mentioned function is not available if a person comes in to work twice a day (day shift/night shift), or tries to register unlock/lock multiple times. Should more complicated records be necessary or changes become necessary, they will need to be done later in excel or a similar file.
*By the term "working day", it means that if, for example, one person unlocks at 9 am on November 5th and locks at 2 am on the following day, on register the time will be registered as clocking-in at 9 am and clocking-out at 2 am on November 6th, but one working day will be registered for November 5th. Under normal circumstances this clock-out at 2 am on November 6th would be registered as a working day on November 6th, and the application avoids such a problem. This option can be flexible, however, as the working date can be selected .
System requirements and compatibility
---
*

All names of products and systems contained in here are trademarks or registered trademarks of the respective companies.

*

The product specifications may differ from the actual products.